Home Movie Facts Fans+Reviews Where to Watch News+Blog Store

Press Kit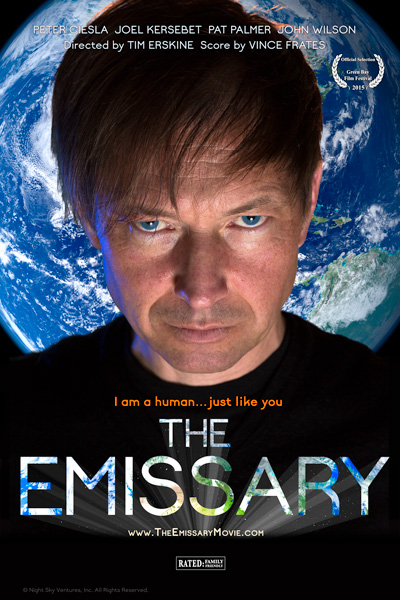 www.theemissarymovie.com
www.facebook.com/theemissarymovie
Night Sky Ventures, Inc.
Contact Us

TAGLINE
"I have been to Earth many times –and I cannot get used to it!"

LOGLINE
A spaceman lands his ship in Newport State Park while a local resident is taking a meditation walk. They join forces to disarm an alien power generator, lost during the wreck of the Edmund Fitzgerald, before it blows up the Door County peninsula.

Synopsis

On November 1975 we see the struggling freighter, the Edmund Fitzgerald, on Lake Superior, encounter a strange spacecraft which appears to be searching for something. Both ships go down in a rogue wave. Remnants from the spaceship land on the shore of the Door County peninsula in Wisconsin. After spotting its glow on the beach, the spaceship's power generator is secretly scavenged by dairy farmer Stewart Wafflequisp Sr. He hides it on his dilapidated farm.

After covertly harnessing unlimited power from this generator for thirty-five years, we now see the Wafflequisp's Ho-Made Country Dairy large and prospering. Wafflequisp Jr. has inherited the alien generator and is in charge of the farm. Disturbed by a piercing alarm arising from the generator, he orders his disgruntled French farm assistant Pascal to silence it. Pascal muffles the din with a calking gun, overhearing Wafflequisp plot to sell the misbehaving generator to "some greedy acquaintances". The generator's distress call travels through space, to a mysterious space colony. This triggers the departure of a second spacecraft, identical to the one that went down with the Fitzgerald, for Earth. It heads toward Newport State Park in Door County.

Jim, an idealistic, well-meaning, but slightly preachy resident of Door County, has just learned to meditate. He convinces his two best buddies to camp overnight at Newport state park, for a healing "awareness walk". Jim's friend Andy suffers from a condition that compels him to mimic people when he is stressed, causing him to lose jobs and dates. Mark is a constant worrier, and Jim determines to use the walking meditation as therapy for both of them. While humoring Jim with the meditative hike in the park, the three of them encounter the spaceship landing, and hide in fear. An ordinary-looking man emerges, walking purposefully down the road, trying to hitch a ride with passing cars. Jim, Andy, and Mark summon the courage to confront the man, who admits he came from space and asks them for help on a "vital mission".

Back at their campground, the spaceman Koyper explains that he is human, one of several thousand collectively called the Emissary, who secretly live on an ancient alien colony in space, in harmony with benevolent aliens. He admits that one of the Emissary's spaceships went down in Lake Superior in 1975, but they were never able to retrieve its power generator. Finally alerted by the missing generator's recent distress call, he reveals it is now about to explode. Koyper explains that he has three days to locate and disable the generator before it destroys all of the Door County peninsula. Koyper enlists the help of the three men to search for the generator, indicating he can sense traces of it using both the powers of some implants, and an alien device that is disguised as an ipad computer.

Meanwhile, Wafflequisp attempts negotiating the sale of the generator to the shady owner of the Exuflux Energy Corporation, who tricks him into signing it over in a contract. As the generator is made ready to travel to Chicago to be dissected by the greedy executive, Jim and Andy rush around the Door Peninsula with Koyper, pursuing traces of it. Some cheese curds with an unusual calcium isotope ratio are discovered in the Sister Bay Piggly Wiggly grocery store, putting them on the trail. This does not stop Koyper from enjoying several of the local tourist attractions, and instructing the panicked Jim lessons on mindfulness during a crisis. Koyper also persuades Jim to act on his obvious crush on the local librarian, and assists Andy to overcome his mimicking disorder. Meanwhile, Mark frantically packs for Chicago to take his unsuspecting wife away from the time bomb should Andy and Jim fail to find it in time. They have to break into Renard's Cheese Factory in Algoma, where they discover the link from the radioactive cheese curds to the Wafflequisp Dairy. They arrive at the farm and recruit the disaffected Pascal to help them pursue the bomb as it departs for Chicago.

Director's Statement

Written and Directed by
Tim Erskine

Produced and Story by
Tim and Holly Erskine

Score by
Vince Frates

Cast
Koyper - Peter Ciesla
Jim - Tim Erskine
Andy - Paul Erskine
Pascal - Joel Kersebet
Stewart Wafflequisp Jr.- John F. Wilson
Exuflux CEO Billy - Mark Moede
Mark - Pat Palmer
Molly - Holly Erskine
Brunette Exuflux Technician - Kay Allmand
Coffee Barista - Jess Holland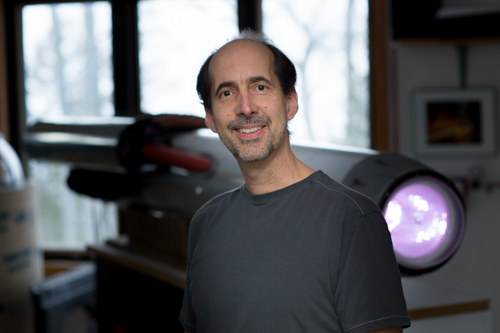 Director Bio Synopsis

Director Tim Erskine was born in South Bend, Indiana on December 26, 1959. He graduated from the University of Arizona in 1983 with a degree in Mechanical Engineering. He is an inventor on over sixty U.S. patents, an artist, musician and entrepreneur. Tim has an adult son and lives in Door County, Wisconsin with his wife and co-producer Holly Erskine.