Home Movie Facts Fans+Reviews Where to Watch News+Blog Store

I made up this exercise, and am playing around with it. It's evolving, so I would love to know what you think and what works for you.

It's simple. It will put you in a good mood. The hardest person to be kind to, sometimes, is yourself. If you don't genuinely care for yourself, as you would care for your best friend, it makes it extra hard to do all the things you want to do.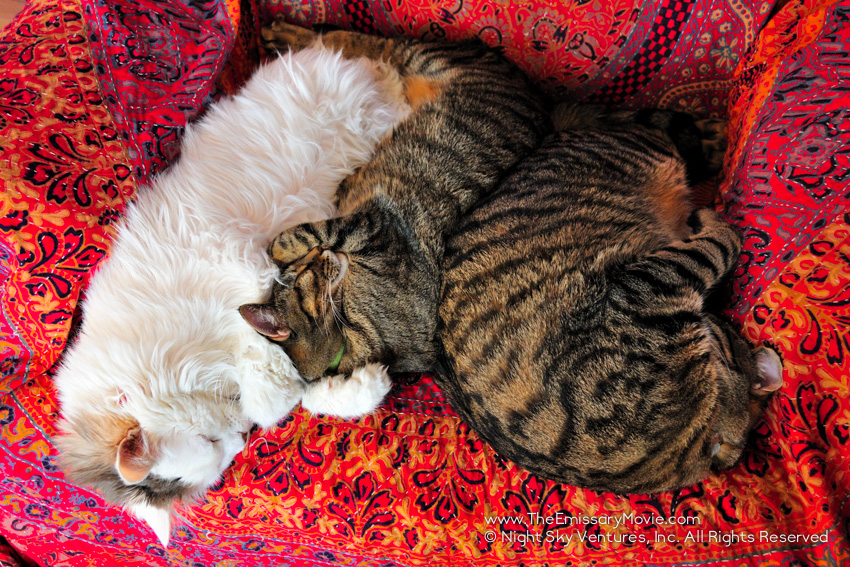 A number of years ago, I was talking to a counselor about my career. She caught me complaining that the only things I was really good at was teaching and writing. "Wait!" She said. "That is distorted thinking!" She was right. She gave me homework to correct the distortion. I had to write down 20 things I was good at doing and show her the list. They could include non-career related items, like personality traits I liked about myself, too.

At first it was hard. I felt like I was reaching. But as I went along, I felt better and better. I can tame feral cats. I can belly dance. I know more than most people would ever want to know about liver glutathione and acetaminophen toxicity, from my graduate research. I play the harp. I can do star talks with my telescope. I don't lash out at people if I get angry, and I don't get angry easily. I recycle all my plastic bags, which is hard to do up here in Door County. A lot of work! And so on. How was I so blind to all these things? Why did I say there were only two things I was good at?

By the time I was done with the exercise, I was glowing. Wow! That was fun! I wanted Tim to try it for himself, he is all too often beating himself up over things that only he worries about. It felt like a gift and I wanted him to have it too. You have to grant yourself the time, and that can be hard to do. But I guarantee you feel good after making the list.
Here is the challenge:
Write down 10 things: they can be things you like about yourself, or things you think you are good at, or both. Use paper. It triggers different neural pathways than mere thinking, or writing on the computer. It requires more effort to write on paper, but this makes it more real.
How do you treat other people in a way that you are proud of? Are you crafty? Do you exercise? Cook? Work with kids? Volunteer? Share ideas with people? Are you good at looking at the bright side? Do you have a unique sense of humor? Do you know about a subject or hobby that is valuable to you? And so on. If you feel like you are on a roll, make it 20!
When you are done, sit down in a relaxed position, let your eyes be gently relaxed, and look at your list. Set a timer for 5 minutes. Out loud, or mentally, with each breath, read each item. A theoretical person might say, for example:
breathe in, then, on the exhale, "I make my dog happy."
breathe in, then, on the exhale, "I make my kids awesome school lunches every day."
breathe in, then, on the exhale, "I make my friends laugh."
breathe in, then, on the exhale, "I can play the oboe."
and so on.

When you get to the end of your list, go back to the top, repeat, until the 5 minutes are up.
Each breath, really picture the statement, and how it makes you feel.
Questions and Tips

1. Does it help to make your statement broad, or more specific? Like, "I'm always excited to learn new things," versus "I'm enjoying learning simple phrases in Mandarin right now." I think the more specific idea feels more real, but I like the general statement, too.
2. Do you prefer speaking out loud, or keeping it internal? I found I preferred softly saying the statement out loud, rather than thinking it. It made it feel more real.
3. I found as I read each statement new items flashed to my mind, to add to my list, for later, and they made me feel good, too. Should I keep adding, and make a really long list?
4. I did find my mind wandering briefly, here and there. When it did, I found myself mechanically reciting words. To keep myself focused on the ideas, it helps to have a picture of yourself doing something specific in each one––a visual evidence library for your mind. If you play the oboe, picture yourself doing that.
5. I actually do 20 minutes rather than 5, and wanted to keep the ideas fresh toward the end, so I started reading the list in reverse order. That helped.
6. I was surprised to find the calm, happy feeling I got after the meditation lasted for a good long time––right through a stressful phone call I received over my mom needing wrist surgery. That calmness was helpful in sorting out what to do.
Finally: Imagine this amazing person you are thinking of––you! Feel the warmth of love for yourself. This is not easy for some. If you find yourself resisting saying kind things about yourself, you need this more than most.